We aren't some faceless corporation; we're people, just like you. With years of experience & expertise, we're here to power your healthcare processes through our UNA solutions.
The UNA Team has deep roots in the healthcare staffing and acute care delivery systems.  Creation of valid pre-employment screening tools coupled with an entrepreneurial spirit in creating technology that solves problems for both organizations and nurses is paramount to the team's success.  It is also what drives UNA's strategy today.
UNA's vision is simple – create technology that does two things. First, improve productivity and onboarding workflows, for hospitals and healthcare staffing companies through innovative technology. Second, to improve the experience for all healthcare professionals in managing their credentials, sharing them with employers, and searching for new employment opportunities. We understand that talent is driving the new market, so we positioned our platform to embrace that change.
Ron is a Nurse Entrepreneur that started his career as a Med-Surg RN, working at regional hospitals on Long Island, NY. He became a nurse recruiter soon thereafter, learning the systems and operations of Healthcare Staffing. In 2004, Ron founded and launched NurseTesting.com, which later became Prophecy Healthcare. He successfully sold Prophecy to APS/Relias in 2015. Ron Co-Founded JobRobotix in 2016 (with a successful exit in 2022), and subsequently launched UNA Health in 2020. Ron has almost 20 years experience building & scaling innovative, next generation technology for healthcare markets
Leslie Jeffries MSN, BSN, RN
Leslie is a registered nurse with clinical background in ICU, Telemetry, and nursing management.  Her executive experience is multi-faceted, including VMS operations in healthcare staffing, pre-employment testing at Prophecy Healthcare, assessment-driven learning for physicians and nurses, consulting for healthcare staffing companies working towards Joint Commission certification and operations at UNA Health.  Outside of UNA, she volunteers as a basketball coach, pianist, and several boards of directors for various non-profit organizations.
David started his career in healthcare as a sales rep at Prophecy Healthcare in 2010. As a key contributor in bringing Prophecy from the staffing to the acute care market he assisted organizations in understanding where the gaps in their hiring/onboarding processes are, worked with multiple stakeholders and departments to adopt the solution, created customized implementation plans to ensure a smooth rollout, and tracked and proved the ROI realized from adopting Prophecy.  He went through two acquisitions of Prophecy and worked at both APS and Relias. At these organizations he expanded his knowledge around assessment driven education and learning management systems. Bringing his same passion for success and helping clients adopt the solutions needed to set their clinicians up for success post hire. In his free time David enjoys playing billiards, exploring Northern California, and spending as much time as possible at beautiful Lake Tahoe.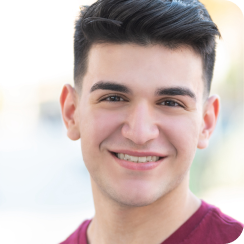 Junior Digital Marketing Specialist
Aaron is a digital marketer with a background in design. His experience includes art direction, graphic design, content creation, and social media management. Aaron has worked with over 500 different clients in both the nonprofit and for-profit worlds. His goal is to spearhead partnerships in the digital space between the incoming generation of nurses and UNA. In his free time, Aaron volunteers with theatrical non-profit organizations as a youth music director.